honoring traditions with creativity and innovation
From the awe-inspiring ruins of Machu Picchu, the splendor of the jewels of Sipan, to the enigmatic Nazca lines, contemporary Peruvian artists have an immensely rich cultural heritage from which to draw inspiration. For thousands of years Peruvians have been perfecting the art of weaving, carving, knitting, pottery, and jewelry making, and their contemporary crafts reflect their talents. Lucuma Designs is proud to help preserve craft techniques that have stood the test of time, and that have been passed down from generation to generation.
"Since I was little, I have had a passion for exploring the colorful and vibrant craft markets of Peru where there was always something new to discover. For over 16 years, I have been honored to work side by side with top artists while inspiring them to realize their full creative potential. It feels great to give something back to my country while sharing its beauty with the world." Alessandra Bravo, President & Designer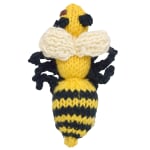 Organic cotton is growing in popularity and here is why!
Read More
Follow along with Don and Alessandra's trip to visit with our talented knitters in Puno, Peru! Read on for updates about our knitters and knitted collections.
Read More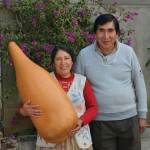 Raquel Sanabria García grew up admiring her parents' ability to create beautiful gourd art. So, as she grew, so did her love and talent in creating gourd art.
Read More
In 2004, Ester joined a small collective of around 20 arpillera artists and started working with Lucuma Designs. As part of this tight group, she values the connections she has made thanks to her art.
Read More