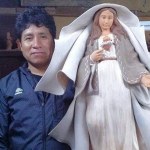 Born on a ranch in Callao, Peru, Richard picked up his love for ceramics thanks to his older brother, Victor.
Read More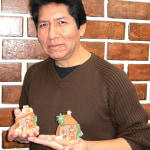 Victor discovered his talent for ceramics in 1981 when, as a teenager, he visited his parents' hometown in Ayacucho. There, surrounded by artists, he naturally picked up the craft, experimenting with clay and taking advice from his aunts.
Read More
Wondering what it takes to create such delicate Nativities? Watch as Richard creates Mary, Joseph, and Baby Jesus, by hand with amazing detail!
Read More
Behind every handcrafted gift, there is a story. These gifts offer windows into the lives of the talented artists who have poured their love and time into creating something truly unique. Their crafts offer intrinsic value that goes far beyond what our eyes can see, which is why we love our products so much. And we know you will, too!
Read More