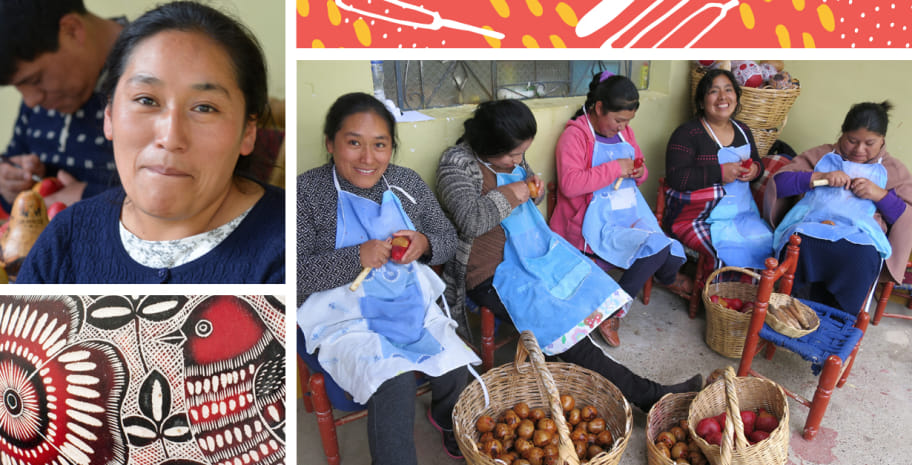 Lizzet Hurtado: A Woman Artist Empowered by Fair Trade
Representing a new generation of gourd artists, Lizzet Hurtado chose to continue her family's art tradition. When marrying Rodolfo few years ago, the young couple started their own workshop. As an accomplished artist and business woman, she has experienced her dose of gender discrimination in our male-dominated society. She felt first hand how a woman must work harder than her male counterparts to leave a mark.
A few years ago, Rodolfo received an opportunity to travel for business to the US for several weeks, leaving Lizzet for the first time on her own. She recalls, "He left me with this huge load. I felt, in that moment, that I could not do it. I felt this slap in the face because I had now to manage the workshop, manage my home, and more than anything, I had the responsibility to supervise eight people, which I had never done before." Thankfully, not only was her team supportive, but her mother had been in a similar situation years prior and was able to soften the blow by guiding her, so she made the best of her situation.
However, outside of her small circle, it hasn't been easy and as a young woman, Lizzet found it challenging to make her way into the world of gourd art--even when coming from a well known artist family. She signed up to participate in a government-run training program where she wound up being the only woman. There, she felt ostracized and verbally assaulted by the older male artists. Probably due to her gender and age, they didn't believe she deserved to be there, and the teachers were of no help. She lacked enough confidence to stay in that hostile environment and so, after a couple of sessions, left.
This crushed her, but she walked away with determination and promised herself that she would make it on her own. Right after that, Lizzet found out that her workshop had been granted a surprise loan through Lucuma Designs. She said, "It felt like a prize!" And at that moment, Lizzet and her team took it as an opportunity to just push forward.
"I want to encourage all women not to feel self-conscious, not to feel less. I know that it is still hard, there is a lot of discrimination but we women have strength, and we can help other women succeed."
Lizzet feels that lately there has been a shift in the gourd art community in regards to gender. Maybe it is the openness of the newer generation who are speaking up and demanding more equality. She recently participated in a training program that welcomed her with open arms. Thanks to that, she not only picked up some useful, new tools for running her workshop, but now is also part of the National Registry of Artisans. She realized that only by facing those uncomfortable experiences and challenges, she is who she is today and feels stronger.
With self-confidence, she has gained new leadership skills to guide her team with, and many times without Rodolfo, during his periodic travels. Lizzet continues to fight for equality for women--especially so that her daughter can grow up in a more positive atmosphere. Traditionally, gourd burning was considered a job mostly for men, but in her workshop, she makes sure that everyone on her team knows how to do every part of the process needed to create our gourds. And she believes strongly there should teamwork in every aspect of life:
"I have always dreamed of equality. People usually call the man the head of the household, but I think that both husband and wife are the heads because the family is a team. I know that if we join our ideas, our strengths, our thoughts, with the support of both men and women, we can make a better world." --Lizzet Hurtado
Watch Lizzet carve in our video or see some of her products below.